Virtual reality is coming at us in an unstoppable fashion, the immersive feeling that the game brings players is deeply shocked,but many do not think the VR display will be as popular as developers hope.
The following is a list of several cool virtual reality games for Sony PlayStation that might make those who don't care about VR headset start rush to get one.
1. Marvel's Iron Man VR
Genre: Action & Adventure
Online multiplayer: NA
Interact with many characters from a first-person perspective and fight with the Iron Man suit.
Using two PlayStation Move motion controllers Fire up iron Man's repulsor jets and Blast into the skies with an arsenal of iconic iron man Gear at your fingertips
Face off against One of Iron Man's greatest foes in high stakes, action-packed battles
Upgrade Tech in Tony stark's garage to customize iron Man's sleek armor and awesome abilities
A further sense of immersion and freshness, experience iron Man complete the transformation, makes you feel real.
Marvel Iron Man VR is a VR action-adventure 2020 new released game in which players take on the role of Tony/Iron Man against a villain intent on destroying his company. Players can use lasers, missiles, and beam guns to destroy enemy drones and tanks, accompanied by massive explosions and real gunfire. With the help of VR's unique advantages, the Superhero theme VR games have become more and more popular.
2. Star Wars: Squadrons
Genre: Action & Adventure
Online multiplayer: Supported
Fasten the safety belt and pilot your favorite starfighter across the Galaxy.
Becomes a starfighter pilot with the goal of destroying the enemy's flagship and destroying as many enemies as possible in battle.
As player levels rise, players earn rewards to modify and enhance their starfighters.
Bring players a realistic Star Wars experience and an exciting storyline.
Players can team up with friends and play against each other.
Developed by Motive Studios released in 2020, Star Wars: Squadron will feature a first-person, 5 V 5 multiplayer space battle to show the massive fleet battle and tell the story of what happened after Star Wars: Episode VI: Return of the Jedi.
3. Skyrim VR
Genre: Action role-playing
Online multiplayer: NA
Skyrim rebuilt a unique and more diverse open world specifically for the game.
The land of Skyrim is an open world environment consisting of wildernesses, dungeons, caves, cities, towns, fortresses, and villages.
The player plays as a Dragonborn, on their quest to defeat a dragon who is prophesied to destroy the world.
Players use a variety of weapons and magic against the enemy.
Improve your skills to completes quests and develop the character.
Skyrim is an action role-playing game from either a first or third-person perspective. In this open-world fantasy epic VR game, players can battle ancient dragons. The game is considered one of the greatest video games of all time and has been praised for its openness, interactivity, and expansive worldview.
4. Blood & Truth
Genre: Shooter
Online multiplayer: Supported
Experience the thrill of becoming a big-screen action hero by wielding two PlayStation Move motion controllers, or a DS4 wireless controller.
Live every moment of the drama with a unique soundtrack of classic movie orchestral scoring and London grime, composed by leading artists.
Wreak havoc through an unpredictable story packed with twists, turns, and shocking revelations.
Enter London's lethal melting pot of high-end glamour and gritty underworld crime.
If you're a fan of classic Hollywood gangster movies and a big fan of action shooters, you shouldn't miss this game. This VR game is based on shooting uses live-action and motion capture to build the characters in the game, which makes the characters appear quite realistic. The game has many big and exciting battle scenes.
5. Everybody's Golf VR
Genre: Sports
Online multiplayer: Supported
Play the game in VR from a first-person perspective
Step onto the course in the immersive Everybody's Golf experience
Swing for the flag with your one PlayStation Move motion controller or DualShock®4 wireless controller
Play through three amazing courses with tips from your very own charismatic caddie
Practice your putting on the green, or tee off at the driving range to perfect your swing
SONY's Everybody's Golf series has always been popular with gamers for its concept of being accessible to all ages. This VR game has a more immersive experience and, on this basis, easier to grasp the control. On the green course, players can look around the terrain 360 degrees, observe the wind direction and swing the club as if they were in a physical sense. The game is easy and enjoyable, which is suitable for relaxing the body and mind of the leisure sports game. There will be many interesting course maps for players to challenge as the process progresses.
6. Resident Evil 7: Biohazard
Genre: Action & Adventure
Online multiplayer: Supported
This game opens the doors to a new era of horror.
Players experience the terror directly from the first-person perspective for the first time in the Resident Evil series.
More realistic action simulations make the whole game scary.
The free camera movement will allow you to involuntarily notice more details in the scene
The game takes place in a deserted farmhouse in South American, where the rotting walls permeate an atmosphere of terror and loneliness. The arrival of Resident Evil 7 marks a new horror survival experience, with players switching their vision to a more terrifying virtual reality mode called "isolation vision." Thanks to the efforts of the RE engineering Department, the realistic sense of terror is raised to a new level, and there is no alternative for players. All this makes players enter a new world of terror to survive.
7. PlayStation VR Worlds
Genre: Action/Adventure
Online multiplayer: Supported
This game creates a new world of unexpected experiences through PlayStation VR.
PSVR World brings you five different extraordinary gaming experiences.
In this game, you can be a gang member, racing cars and shooting people, or a bounty hunter who drives a mech to kill monsters and raiders of treasure; You can be an explorer, exploring the depths of the sea; You can also become a street racer and experience roller coaster-like street racing. You can also become an athletic star and activate your physical potential.
8. Batman: Arkham VR
Genre: Action & Adventure
Online multiplayer: Supported
Play the world's greatest detective- mystery Batman in an all-new and personal story.
Put on the mask and you are the batman, get ready to fight with Dark forces.
VR lets you become the dark knight in a virtual reality recreation world and begin to clean up Gotham
Experience dark knight's universe and redefines what it means to be the Batman.
Shocking VR scene immerses you in the world of Batman.
Batman: Arkham is a first-person perspective Batman VR game, this game brings you to come into an epic world of batman. Experience Gotham City through the eyes of the world's greatest detective in a new Arkham mystery. In virtual reality, he uses his legendary tools to disrupt a plot that threatens the life of Batman's closest ally.
9. Wipeout Omega Collection
Genre: Racing
Online multiplayer: Supported
The game includes all the content from WipEout HD, WipEout HD Fury, and WipEout 2048.
Race 26 reversible circuits, 46 unique ships and 9 game modes.
It's more immersive with improved lighting effects and sharper visuals.
Start the fight with all kinds of weapons and play online with friends.
Wipeout Omega Collection brings together all the content from WipEout HD, WipEout HD Fury and WipEout 2048, enhanced for PS4 and PS4 Pro, features higher resolution and improved graphical quality on PS4 Pro making it more immersive for the player.
10. DOOM VFR
Genre: Shooter
Online multiplayer: Supported
Play as a cybernetic survivor who is activated by the UAC to fight the demon invasion at the Mars facility.
Immerses you in a brutally fun and challenging modern-day shooter experience.
Combat with ruthless demons from a first-person perspective.
You can take part in the single-player campaign obliterating demon hordes, or competing against your friends in numerous multiplayer modes.
Fitment: for PlayStation VR and VIVE platforms.
This is a first-person shooter genre VR game, with improved overall visual quality, this VR game enhances the bloody effect for the original game, battle feeling, brightness will also be optimized.
11. Creed: Rise to Glory
Genre: Sports
Online multiplayer: NA
Experience the fun of boxing, perform punches, and take down the opponents.
Training with the legendary rocky balboa, feel yourself become stronger and stronger.
Multiple game modes enable you to fight the way you want.
Take challenges both your body and mind, battle to become a champion.
Phantom melee technology lets the players experience the new VR melee.
CREED: Rise to Glory is the ultimate cinematic boxing game, you take challenges to rise through the ranks to become a champion. Face to face in the spotlight full of championship rings. Each tournament offers dynamic music and iconic themes that put you at the center of the story.
12. Superhot VR
Genre: Action & Adventure
Online multiplayer: Supported
In this unique game, you will fight the constantly emerging enemy until death.
The player is an agent in the game, the mission is to kill the enemy.
As soon as you stop, the objects around you go into slow motion, allowing you to plan your next move as you go.
Move Controllers required in this VR game.
This is a first-person shooter genre game, time only passes when you move, innovative time control allows you to gracefully attack the enemy. A ruthless enemy with a limited number of bullets, each attack is exciting.
13. Gran Turismo Sport - PlayStation Hits
Genre: Racing
Online multiplayer: Supported
Give you a better definitive motor racing experience on PlayStation 4.
Putting you on course, the real racing simulator allows you to experience higher speed and passion.
You will race on a track in the real world, from over 140 high-performance on 19 real-world and historic GT locations across 27 layouts.
As you progress and win more races, you will unlock new, faster vehicles.
As a simulation race game, the high resolution makes each car in the game look vivid and a perfect replica in the real world. The award-winning real driving simulator thrills you to get your heart race.
14. RIGS Mechanized Combat League
Genre: Shooter
Online multiplayer: Supported
Choose your RIG and take to the field for intense online multiplayer matches.
Use skill, tactics, and teamwork to garner fame and fortune in the Mechanized Combat League.
Master some of the most sophisticated and athletic fighting machines ever created.
Pilot one of twenty-four distinct Hero RIGS, each with their characteristics.
From gladiatorial death-matches to nail-biting futuristic sports, RIGS presents a vision of the future of entertainment.
This is a VR mecha FPS game and obviously, mecha and VR are a perfect match. In this game, you will become the most valuable driver, operate your precision armor, and use its two guns to engage in a thrilling mechanized battle movement in a dedicated arena in the future world. Unlock more battle armor in exciting single-player mode, or team up online to compete with global players. Enjoy the PlayStation VR experience in this exciting world of sports shooting.
15. Battlezone
Genre: Battle
Online multiplayer: Supported
This is the most classic and most popular tank game.
Experience first-person virtual reality combat in a retro sci-fi setting.
Feel the breathless intensity, scale, and shock of the battlefield
Unlock more tanks, weapons, and special equipment, to Experience a thrilling campaign.
Join the 1-4 player campaign that will ignite the game.
Many people are all familiar with Battlezone, this classic tanking game is once again getting a new life on SONY'S PSVR, and earning critical acclaim from countless players. With its cool and futuristic pictures, this VR game creates a visual feast for players! The game scene uses a random generation mechanism so that you can have a different game experience every time.
16. EVE: Valkyrie
Genre: Fighting & Shooting
Online multiplayer: Supported
Play an elite fighter pilot and fight in space.
Armed yourself to claim what's yours, chase wealth and notoriety on the edge of space.
Stunning space background and fantasy world you can't get away from
Cutting-edge virtual reality gameplay immerses you in the space combat.
Multiplayer action rewards teamwork makes the game even more exciting.
This is a pure virtual reality game that multi-players are fighting & shooting in space, experience high-speed combat with a fast-moving spaceship. In the game, the player acts as a pilot with enhanced genes, piloting ships from various factions in the EVE universe to plunder space. The whole experience is fun and enjoyable, it's worth playing.
17. Farpoint
Genre: Action & Adventure
Online multiplayer: Supported
Experience the alien world, search for survivors and a way home.
Use various weapons to fight in a dangerous alien world.
You can play this cool game with your friends.
Farpoint is a riveting VR space adventure set on a hostile alien planet. A group of explorers on a journey to an alien planet is forced to land in a dangerous new world after a crash. With its outstanding graphics this VR game to achieve an unprecedented shooting experience. In online mode, you can match players online, work together to overcome the PVE level.
18. Until Dawn: Rush of Blood
Genre: Survival Horror
Online multiplayer: Supported
Start your scary carnival ride on a roller coaster.
The game has seven horrifying and highly replayable levels, related to seven different roller coasters.
Enjoy a virtual reality shooting
Armed yourself to fight against enemies and monsters coming at you.
Until Dawn: Rush of Blood is a survival horror rail shooter game developed by Supermassive Games, a direct spin-off from Until Dawn. The player plays on a roller coaster cart while going through a horror-themed carnival amusement park, VR makes the scare experience perfect in this game.
19. Driveclub - PlayStation Hits
Genre: Racing
Online multiplayer: Supported
Put on your helmet, get in the car, and fasten your seat belt, start this car racing game.
With a full 360 view of the interior and all views, immerse yourself in the VR game scene
Players can join a club or create their own, compete against other clubs to ultimately see whose club is the best.
Show your well-driving skill and complete challenges to earns fame, unlock items, such as new vehicles, accolades, or color schemes.
Driveclub is a racing game in which players compete in racing events around the world in a variety of different fashions. Players can compete in clubs with other players, earning a reputation as one of the best clubs, and leveling up to unlock better items. In another mode, players can compete in standard races, as well as time trials, by drifting events, and championship tournaments.
20. Bravo Team
Genre: Shooter
Online multiplayer: Supported
Players act as a secret service soldier in the game and go into exile.
As a wantedcriminal, the player brings his team to battle against the enemy.
You'll need to work out a strategy to succeed and make your escape.
Allow both single-player and online 2 player co-op.
This is a multiplayer VR shooting game and is about military action. The story is set in a modern Eastern European city, and the player's convoy errs, leading to the assassination of the President. The main character is wanted, fugitive life also began at this point. Teamwork is at the core of the game.
21. Astro Bot: Rescue Mission
Genre: Action & Adventure
Online multiplayer: Supported
Using the DualShock 4 controller, players take control of a small robot named Astro Bot.
Astro can jump, hover, punch and charge his punch into a spinning attack.
The goal of the game is to rescue astronauts scattered around the world. You can help Astro through his journey,
The game has 26 levels across five worlds, with a BOSS at the end of each stage.
Because the game adopts 3D audio, players can locate the robot's voice easily.
The main character in this game is Astro, a cute little robot once famous in SONY's Playroom VR. In the game, players need to take control of Astro to rescue missing crew members scattered across five planets. Various tasks need to be accomplished by precise jumps and other operations. The challenge of the game is both difficult and fun, and it blends perfectly with VR operations, making it a must-buy for all VR players.
22. Moss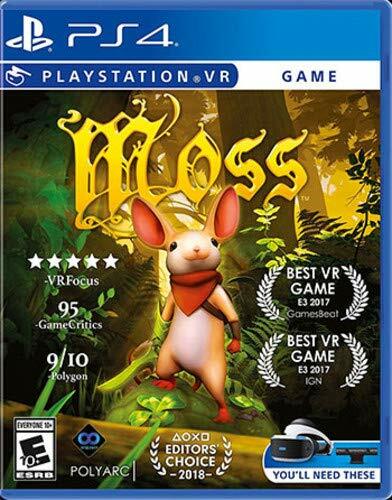 Genre: Action & Adventure
Online multiplayer: NA
Players act as cute mice Quill to solve puzzles, avoid obstacles on their way, and eliminate enemies in front of them.
With the help of VR players in the game can touch, interact with the environment, and guide Quill on her journey.
Quill will react to you based on how you operate in the game and interact with the environment.
The setting of the fairy tale and the beautiful scenery makes the sense of immersion more outstanding
Moss is a single-player action-adventure Genre puzzle game, the main character of this game is a cute little mouse named Quill. The game has brightly colored graphics, and as the third-person perspective, With the help of VR, these fairy tale scenes suddenly appear in front of you. There's no bloody violence in the game, very suitable for ladies and girls.
Posted:
November 06, 2020